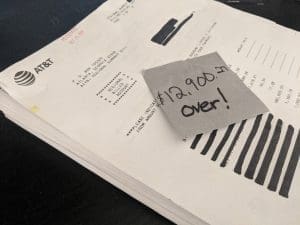 Organizations face a slew of factors affecting their employee's ability to manage successfully the services and expenses necessary to their day-to-day operations.  Many turn to Business Process Outsourcing (BPO) to alleviate some of the manual, redundant tasks handled by their staff.  Business process outsourcing allows an organization to turn over one or more business processes to an external service provider that, in turn, partners with the organization to own, administrate and manage the selected processes, based on defined and measurable performance metrics.
RadiusPoint is such a business process outsourcing specialist. We offer a proven expertise in TEM/UEM services, backed up by a Software as a Service (SaaS) model utilizing our proprietary software platform, ExpenseLogic. We help our clients reduce the cost of technology and utility services; track and optimize the efficiency of such services, assets and resources with positive effects on both the bottom line and the environment; automate certain complex business processes and reduce associated manual processing; generate cost avoidance opportunities; manage an enterprise-level mobility strategy more efficiently; acquire business intelligence that management needs to make faster and better-informed decisions; as well as generate other hard and soft dollar cost savings built into financial projections.
RadiusPoint's service offer focuses on Telecom Expense Management (TEM), Managed Mobility Services (MMS), and Utility Expense Management (UEM). That core foundation gives our clients a complete solution to manage each of these services successfully. RadiusPoint helps managing technology and utility expense –from procurement to payment— by providing invoice processing, payment services and vendor management on ExpenseLogic. Our SaaS platform also provides management teams the granular business intelligence that enables them to make quick, accurately informed managerial decisions.
This case study focuses on how BPO services helped a QSR chain
Challenge
A Quick Service Restaurant (QSR) chain needed telecom, IT, and utility reporting by location, to compare to monthly sales and assist their mangement team in making quick expense-reducing business decisions. As the profit margin on hamburger sales is very small, it is of the utmost importance for this chain to operate efficiently and as leanly as possible. The chain counts 240 locations in five major metropolitan centers and various smaller cities across the United States.
Areas of concern:
Accounts Payable personnel lacked experience with telecom and utility service invoices
An understaffed AP department couldn't manage a short invoice turnaround
Service disconnects entailed loss of business
Financial reporting was insufficient
Management's ability to track consumption measurements (kWh and therms) was insufficient
Management did not have a clear view of monthly cost of telecom services at location level
IT assets at each location were not inventoried
Giving the Accounts Payable team an expense management tool that would provide invoice processing and payment functionalities was critical. The SaaS platform also had to allow them to retain access to all accounting information.
By providing vendor management services to the Telecom, IT and Facilities management teams, RadiusPoint would offer the help of a knowledgeable partner in optimizing services and contract management. This would then allow management to work effectively towards cost avoidance and cost reduction in all services.
Opportunity for BPO services
RadiusPoint proposed a partnership that allowed the QSR chain to outsource their accounts payable, expense management and help desk functions. By taking over all of the accounting tasks for telecom, IT and utility or energy invoices, we would provide the management team the business intelligence they needed to make quick, well-informed business decisions.
One of the requirements was to capture consistently every month the data present on each of the vendors' invoices. With ExpenseLogic, RadiusPoint can typically detect savings opportunities from this data, and generate a significant ROI once each component of the telecom, IT and utility invoices is captured and audited.
RadiusPoint's Audit Specialists ensure the right level of information is entered into ExpenseLogic: this is a huge part of the process automation, and this step plays a critical role in auditing invoices for inaccuracies and overages.
Solution
The combination of RadiusPoint's experience and knowledge in BPO services, and of our powerful SaaS platform enables us to manage successfully all of the telecom, IT and utility/energy invoices of our client throughout their entire lifecycle. The QSR chain benefited from significant savings on such services, as our audit and automation process detect billing errors, overages, instances of waste and misuse of telecom assets and utility services.
Because RadiusPoint took over all monthly telecom, IT and utility invoices, there was no need for the AP staff of our client to take care of invoice receipt, handling, auditing, reconciliation, adjustment, and payment every month. Our BPO services generated immediate material savings in paid labor. They also freed up time for the AP team to take care of other aspects of the QSR chain's business.
In addition, the input of detailed invoice data into ExpenseLogic provided the management team with the monthly cost vs. sales reporting they needed for further analysis and decision-making.
Our BPO automation solution involved:
One single SaaS Platform for all accounting and reporting needs
Eliminating the input and handling of monthly invoices by our client's AP team
Eliminating the need for further research with electric and gas usage spikes
Identifying areas of possible hardware improvement at the older QSR locations, with cost comparisons
Full contract management, including contract digital images, service level agreement details, and expiration notifications (via email)
Vendor management to ensure optimization and service delivery
Their partnership with RadiusPoint allowed the QSR management team to focus on cost-reduction strategies, using the granular invoice reporting generated by ExpenseLogic. This business intelligence, combined with full audit of each invoice, allows for efficient cost saving initiatives to be completed in record time. In addition, local-level reporting of telecom, IT and utility expenses creates a location-per-location comparison benchmark.
As a result of our BPO services, the QSR chain was able to identify multiple locations that:
Could eliminate unnecessary, in-restaurant DSL lines
Needed upgraded HVAC equipment to lower monthly energy costs
Could eliminate regular phone lines (for POS) for more cost-effective solutions
Could avoid waste (cost avoidance) by quickly identifying the impact of water leaks on usage, eliminate their cause, and get overcharge recredits
Eliminate Accounts Payable staff paid time to the tune of 1 FTE
BPO services & ROI
RadiusPoint uses key metrics to calculate the ROI of our BPO services, and thereby ensure that our client benefits from cost savings in multiple ways (incl.  errors identified and refunds received, process improvement and automation, cost avoidance, etc.).
In the case of this QSR chain, our process improvement alone saved our client the cost of 1 FTE salary. The Accounts Payable "standard per invoice processing cost" went down $13.49 per invoice (over 600 invoices) or $8,000+ per month.
Over the period, cost reduction and cost avoidance savings achieved by BPO specialists for the restaurant industry averaged an ROI of 201%.
By comparison, our client achieved a 258% ROI in their first year of using our BPO services.
Additional resource: Short BPO case study